Have you ever commented on how big home lots appear in some of the older neighborhoods you visit? Or how small they look in 21st century neighborhoods, particularly those built during the McMansion era of real estate development? In some cases it could be a case of perspective – tiny older homes compared to 3000-5000 sq. ft. homes on similarly sized lots, however recent data from the National Association of Home Builders (August 31st, 2018) shows that new home lot size started dropping in 1996 and have been mostly declining since then. 
In fact, across the U.S., the median Lot Size for a Single-Family Detached Home in 2017 established a new record low of 8,560 sq. ft., or .197 acres.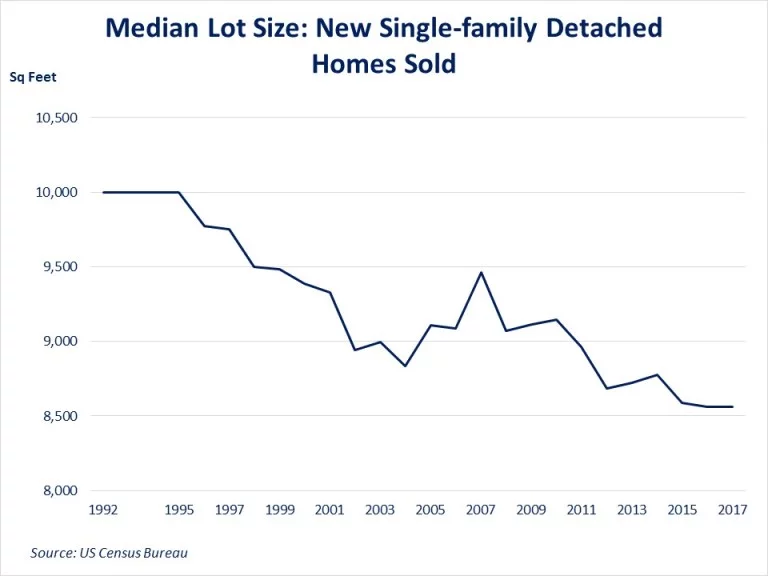 Regional Differences
Craving more space between you and your neighbor? Check out New England where, due to some strict low-density zoning laws, the median lot size is two times the national average.
Although not a direct line, lot sizes tend to get smaller as you move west across the country, reaching a median of 0.15 acres in the high-density pacific area.
The Mountain zone, which includes Boise, has a median lot size 0.17 acres.
Lot Size for Alturas Homes
Our current average lot size for our recently sold, on the market, pending, and under construction home is .252 acres, or 10,977.12 sq. ft. , considerably larger than the 0.17 acres that is median for the region.
See our available homes to find the yard and home of your dreams, or visit our website to learn more about Alturas Homes.